Photo of the Month
Previous / Home / Next

October 2007:
Store No. 217, Mercersburg, Pa.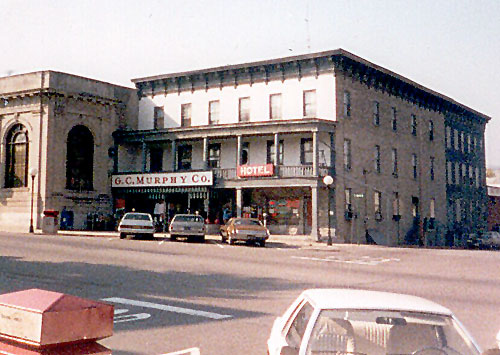 (Photo courtesy Betty Moats)

Betty Moats began working for G.C. Murphy Co. store No. 217 in Mercersburg, Pa., in 1949, and stayed for 43 years, retiring as manager.

The store was in an old tavern-hotel called The Mansion House and had originally been an independent five-and-10 store called "Turner's," Moats remembers.

Moats was one of the first women to complete Murphy's intensive "Executive Training Program," which culminated in the weeklong "School of Instruction" at the Home Office in McKeesport, Pa.

"I have this whole picture when I graduated from the School of Instruction," Moats said. "There were 40 men and two women.

"I can remember going to my first managers' meeting afterward and I was the only woman with 66 men. They treated me like old mother hens — 'Don't you dare go out (on the street) without one of those guys (for protection),' they'd tell me."

With an L-shaped sales room, the Mercersburg store had wooden floors that would creak and sag as customers walked over them.

Many of the customers were students or staff at the nearby Mercersburg Academy, a nationally-known boarding school. Others were families who lived on the nearby farms in rural Franklin County, Pa., and they came to town only on Friday and Saturday nights.

All of the employees at Mercersburg were women except the stock boy. "We carried everything — cookies, candy, toiletries, stationery, toys, nylons, socks," Moats said. "Curtains and blinds, we cut them in the store — hardware, ladies' dresses, skirts and blouses."

Moats kept a list of "most-requested items" at her checkout counter and if Murphy's merchandise manuals didn't list them as regularly stocked items, she'd call the Home Office and make a special effort to get them in the store.

The Mercersburg store was still making a profit when Moats retired and continued to do a "good bit of business" when McCrory Corp. closed it.

"There's not a week goes by that I don't hear from someone, 'Betty, we sure miss your store,'" Moats said. "You talked to people, you got to know people. I enjoyed that."

(Previous photo: September 2007, opening day, 1960s)











Copyright © 2004–07 G.C. Murphy Company Foundation Inc. This Website is not endorsed by or affiliated with Ames Department Stores Inc., McCrory Stores Corp., Riklis Family Holdings, or their subsidiaries, affiliates or successors. Any trademarks are property of their holders, and are used here for illustrative purposes only. Website hosting by SkyMagik Internet Services, McMurray, Pa.