Five and Dime Timeline, 1879–2003
Compiled by Jason Togyer
© 2005 G.C. Murphy Company Foundation, all rights reserved.


1879: Frank W. Woolworth opens his first five-cent store in Utica, N.Y., in February. It closes in May. On June 21, he opens another store in Lancaster, Pa. Another Woolworth store opens in Harrisburg on July 19.
1880: Woolworth opens a store in York, Pa. in March. It closes three months later, but Woolworth-owned or affiliated stores soon open in Scranton, Wilkes-Barre, Easton, Elmira and Buffalo. Woolworth adds 10-cent items.
1882: John G. McCrorey opens a five-and-10 in Scottdale, Pa. By 1899, McCrorey (who eventually drops the "e" from his name) has eight stores in Pennsylvania and two in Jamestown, N.Y.
1896 (approximate): George C. Murphy becomes manager of McCrory store in Jamestown, N.Y. Among his employees is Sebastian S. Kresge.
1897: Kresge and McCrory open a five-and-10 in Memphis, Tenn., March.
1898: John Sephus Mack, son of a farmer from Brush Valley, Pa., gets a job working for J.G. McCrory Co.'s store in Johnstown, Pa. Kresge and McCrory open a new five-and-10 on Woodward Avenue in Detroit (one source claims 1897). G.C. Murphy is appointed manager.
1899: In March, G.C. Murphy leaves the McCrory company to start his own five-and-10 in Pittsburgh. In Detroit, Kresge trades his half-interest in the Memphis store to McCrory in exchange for full ownership of the Detroit store.
1900: Walter C. Shaw hired as a stockboy at McCrory store in York, Pa.
1902: W.C. Shaw promoted to manager of McCrory store in York. He later works at McCrory's in Hagerstown, Cumberland, East Liverpool and Memphis.
1904: G.C. Murphy sells his Pittsburgh area five-and-10 stores to Woolworth in 1904, with the agreement that he will not open any competing five-and-10s.
1906: G. C. Murphy opens a new variety store at Fifth Avenue and Sheridan Street in McKeesport, Pa. To get around his contract with Woolworth, Murphy sells higher-priced items than five and 10 cents. The building housing this store will eventually become part of the home office complex. This is the foundation of the modern G.C. Murphy Co.
1909: G.C. Murphy dies. He is buried in McKeesport and Versailles Cemetery.
1911: J.S. Mack and W.C. Shaw resign from McCrory Co. to purchase G.C. Murphy Co., which operates 12 stores (one source says 11; another says 10) near Pittsburgh, with sales of $251,668. Mack is named Superintendent of Stores and Shaw becomes Vice President. Mack is elevated to President by Dec. 29. Mack and Shaw turn the failing G.C. Murphy Co. around within a few years and it begins expanding rapidly.
1926: Murphy Co. opens New York City buying office.
1930: New Downtown Pittsburgh store ("Number 12") opens between the 200 blocks of Forbes and Fifth avenues at cost of $250,000.
1931: Murphy Co. is listed on the New York Stock Exchange with ticker symbol "MPH."
1934: Despite the Depression, Murphy Co. continues to thrive. From 1929 to 1934, sales increase from $15.7 million to $28 million. There are 181 Murphy Co. stores in 11 states and Washington, D.C.
1940: J.S. Mack dies, Sept. 27. McKeesport distribution center (warehouse) opens.
1950: Murphy Co. purchases Morris Stores in Ohio, Indiana and Illinois.
1953: Paul L. Sample dies. James S. Mack, son of John S. Mack, becomes Murphy Co. president.
1955: Murphy Co. opens its first shopping center locations in West Erie Plaza, Erie, Pa.; and Brentwood-Whitehall Shopping Center, near Pittsburgh.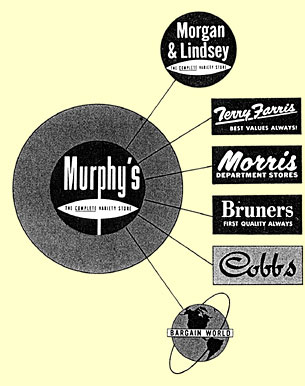 1959: Murphy Co. purchases 112-store Morgan & Lindsay chain in southern U.S., greatly expanding its presence below the Mason-Dixon line and extending the company to Texas and Louisiana. Murphy Co. also purchases Cobb's, Bruner's and Terry Farris department stores in Texas.
1960: Israeli-born businessman Meshulam Riklis purchases control of McCrory Corp., operator of McCrory, McLellan and H.L. Green Co. five and dime stores. (Riklis at various times will own Faberge, Brut, Aqua Net and Schenley Distillers. However, he may be best known by the general public as the husband of Pia Zadora, and the financier of her movie career.)
1962: Kresge Co. opens its first "K-Mart" discount store in Garden City, Mich., a suburb of Detroit. First "Wal-Mart" discount store opens in Rogers, Ark., July 2. Murphy Co. Chairman W.C. Shaw dies, Jan. 10. James S. Mack becomes Chairman.
1967: Murphy Co. launches "A-A" program at larger stores. "A-A" stresses better advertising, more trendy merchandise, longer hours, bigger in-store displays, and merchandise grouped by "themes" instead of departments. Murphy Co. progress honored with special issue of Chain Store Age.
1968: James S. Mack dies. For the first time since 1911, the Murphy Company is not headed by a member of the Mack or Shaw families, though Martha Mack Lewis and Walter C. Shaw Jr. remain on the board of directors.
1969: A-A program de-emphasized as planning for "Murphy's Marts" begins.
1970: First Murphy's Mart opens in Bethel Park, a suburb of Pittsburgh, in the former Mayfair Department Store on May 27. First Murphy's Mart built from scratch opens in Harmar Township, Pa.
1971: Third Murphy's Mart opens in Connellsville, February. Murphy's Marts are under construction or being planned in Warren and Boardman, Ohio; and Butler, McCandless, North Huntingdon, Pleasant Hills and Robinson townships in Pennsylvania.
1976: Murphy Co. operates 529 stores.
1979: Charles Lytle becomes president of Murphy Co.
1984: Arthur Goldberg of New Jersey attempts hostile takeover of G.C. Murphy Co. Murphy Co. fights back. Irwin Jacobs of Minneapolis purchases Goldberg's shares and winds up with 19 percent of Murphy Co.
1985: Jacobs sells his interest in Murphy Co. to Ames Department Stores Inc. Murphy Co. executives attempt to arrange financing for employee stock ownership plan. Ames announces plans to purchase outstanding shares of Murphy Co. for $198 million. Murphy Co. shares go from $9 to $47. Murphy Co. merged into Ames.
1986: Murphy's Marts converted to Ames stores. G.C. Murphy Co. variety stores operate as separate division of Ames, based in McKeesport.
1987: Kmart Corp. sells 58 S.S. Kresge five-and-10 stores to McCrory Corp.
1988: Ames purchases Zayre Department Stores division of Zayre Corp. for $800 million.
1989: Ames sells Murphy Co. division to Riklis Family Holdings for $80 million in August to help pay off debt from Zayre stores acquisition. Ames retains McKeesport warehouse, but Murphy Co. "home office" closes. There are about 100 Murphy stores remaining, plus 25 "Bargain Worlds," "Crafts-N-More" stores and "Office Shop Warehouse" stores run by the Murphy division. Riklis operates 1,300 stores.
1990: Ames files for bankruptcy.
1991: In February, suppliers are warned to ship to McCrory stores only on a COD basis. McCrory Corp. loses $42.3 million in first nine months of 1991; announces plans to close 229 stores.
1992: McCrory Corp., now operating 820 stores, files for bankruptcy protection. Ames closes McKeesport Distribution Center; exits bankruptcy.
1998: Ames purchases Hills Department Stores for $330 million. Last 400 F.W. Woolworth variety stores close and Woolworth Corp. changes name to Venator Group (its major holdings are Foot Locker stores).
2001: McCrory Corp. files for Chapter 11 bankruptcy protection again, announces plans to liquidate. Only 200 stores are left, and all close by the end of the year, including a handful still called "G.C. Murphy Co." Ames files for bankruptcy again.
2002: Ames announces plans to liquidate in August. All Ames stores close.